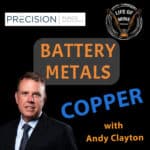 Andy Clayton from Precision Funds Management joins Life Of Mine for the Battery Metals series. These episodes will educate everyone on all there is to know about Battery Metals, namely what's in an EV battery, who's Mining all the minerals and what are the upcoming projects. There will be 4 episodes:
– What makes up an EV Battery (overview)
– Lithium
– Nickel 
– Copper
In this yarn we talk everything COPPER, which is predicted to go into a massive deficit in the coming years. In this chat we cover:
Where all the bulk Copper is found (not Australia)
The size and importance of the Escondida mine in Chile
Has all the easy Copper been found?
Upcoming global projects and who are the big players
and plenty more Copper chat.
Please share this series around your network, as it will be a great education tool for all those keen to learn about the EV revolution.
Thank you as always to our great sponsors at Entech Mining. If you want to know more about the leader in Mine Consultancy, check them out at http://entechmining.com.au/