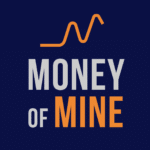 Money of Mine dialing in from Diggers – Day 2!
We had some great chats throughout the day and are sharing a couple of the conversations.
Tony Rovira, MD of lithium market-darling Azure Minerals came on, along with his son who tried his best to steal the limelight. Our discussion ranged from growing a lithium exploration story to the tough junior gold market, and a bit about their family backstory.
We also caught up with Ron Mitchell, MD of lithium developer Global Lithium. We covered plenty of ground including the market reaction to their scoping study, the state of the market, and a great over-rated vs. under-rated session.
All Money of Mine episodes are for informational purposes only and may contain forward-looking statements that may not eventuate. The co-hosts are not financial advisers and any views expressed are their opinion only. Please do your own research before making any investment decision or alternatively seek advice from a registered financial professional.
Thank you to our Podcast Partners:
Terra Capital – Specialist investment manager in the natural resources sector
Anytime Exploration Services – Exploration workers, equipment, core cutting/storage plus much more
JP Search – Recruitment specialists for the financial world
K-Drill – Safe, reliable, and productive surface RC drilling
Join our exclusive Facebook Group for the Money Miners and request access to the Hooteroo chat group.
Subscribe to our weekly newsletter HOOTEROO HERALD
Follow Money of Mine on YouTube
Follow Money of Mine on Twitter
Follow Money of Mine on LinkedIn
Follow Money of Mine on Instagram
Chapters:
(0:30) Introduction
(2:36) Azure Minerals AZS Tony Rovira (& son)
(33:09) Ron Mitchell Global Lithium GL1