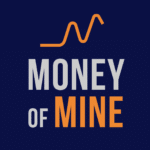 JD sat down with the duo that runs Acorn Capital's NextGen Resource Fund for a wide-ranging chat on all things resource investing.
Rick & Karina shared where they pick to invest along the Lassonde Curve, what sort of commodities and deposit styles they like, the red flags they look out for, how they diversify the portfolio across stages + commodities plus a heap of hot takes on dozens of resource plays.
Enjoy the chat & let us know your thoughts!
All Money of Mine episodes are for informational purposes only and may contain forward-looking statements that may not eventuate. The co-hosts are not financial advisers and any views expressed are their opinion only. Please do your own research before making any investment decision or alternatively seek advice from a registered financial professional.
Thank you to our Podcast Partners:
Terra Capital – Specialist Investment manager in the natural resources sector
Anytime Exploration Services – Exploration workers, equipment, core cutting/storage plus much more
JP Search – Recruitment specialists for the financial world
K-Drill – Safe, reliable, and productive surface RC drilling
Join our exclusive Facebook Group for the Money Miners and request access to the Hooteroo chat group.
Subscribe to our weekly newsletter HOOTEROO HERALD
Follow Money of Mine on YouTube
Follow Money of Mine on Twitter
Follow Money of Mine on LinkedIn
Follow Money of Mine on Instagram
Chapters:
(0:00) Coming up
(0:51) Intro
(3:49) Welcoming Rick & Karina onto Money of Mine
(4:33) Are they excited about opportunities right now?
(6:05) Capital raisings going on at the moment
(6:48) Where are we in the broader cycle
(7:55) Project quality vs Macro environment
(8:42) How's the funds' management landscape changed?
(11:50) Acorn's investment process
(13:52) Staying disciplined
(16:50) Spreading investment across the Lassonde curve
(19:55) The importance of quality management
(21:16)   The propriety database
(23:50)  Ranking resources
(26:33) De Grey the one that got away
(28:32) Red flags to look out for!
(31:40) Why aren't there more copper mines in Australia?
(37:21) Weighing up Aussie copper plays (MAC, 29M)
(44:41) Why invest in hard rock lithium over brine projects?
(47:08) Will DLE change the lithium market?
(49:28) Lessons from studying lithium
(51:09) Acorn's best-performing picks
(51:40) Has Azure Minerals peaked?
(55:00) Scoping study challenges with marketing
(57:15) Does Boss Energy still have room to run?
(1:00:44) Red 5's good couple of quarters
(1:02:40) The funds' detractors – what has set Acorn back?
(1:02:55) Patriot – the red flags don't apply?
(1:05:17) Leo Lithium's tough time
(1:08:21) Under-rated vs Over-rated!
(1:11:44) Wrap-Up