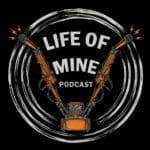 Graham Arvidson is the CEO of Australian Vanadium Limited (ASX:AVL)
AVL's flagship asset is the Australian Vanadium project located near Meekatharra in Western Australia. This project hosts a proposed 25 year open pit project that will aim to produce a Vanadium Pentoxide flake product that will be extracted via AVL's proposed downstream processing plant east of Geraldton in Western Australia.
Graham takes us through in depth everything there is to know about both Vanadium and AVL, namely:
Why there is a lot of attention on Vanadium in this current EV market
AVL's ambitions to build and operate an electrolyte plant to supply Vanadium redox flow batteries
The key considerations for mining, concentrating, and downstream processing of VTM deposits (vanadium-titanium-magnetite).
And plenty more
This is a sensational and informative chat with Graham. He is a massive supporter and advocate for all companies in the Vanadium sector, as he hopes that all projects will come on line in the very near future to propel this industry to where it needs to go. Once Vanadium supply comes online and we start seeing more Vanadium Redox Flow Batteries in the world, the closer to decarbonisation we will be.
If you would like your company to be a part of Life Of Mine, get in touch with me via matt@lifeofminepodcast.com
***DISCLAIMER***
All Life Of Mine episodes are for information only and may contain forward looking statements that may not eventuate. Please do your own research before making any investment decision or alternatively seek advice from a registered financial professional.
****************
Buy all your Life Of Mine Merch here
Life Of Mine LINKS
Follow on LinkedIn
Follow on Twitter
Subscribe on Youtube
Follow on Facebook
Follow on Instagram
Follow on TikTok
Make sure you subscribe to Life Of Mine wherever you get your Podcasts (links below):