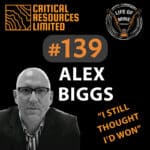 FULL YOUTUBE VIDEO EPISODE – https://youtu.be/t1otwTpemao
Alex Biggs is the Managing Director at Critical Resources (ASX:CRR)
CRR are a Mining Exploration company with 2 flagship projects:
– Halls Peak Base Metals project near Armidale, Australia.
– Mavis Lake Lithium project in Ontario, Canada.
This is a fantastic yarn about Alex himself and the journey that has taken him to the heights of MD after being "not destined for much" as he put it. You'll hear about his battle with a brain tumor in 2009 and how this has shaped the MD he is today. There is also plenty in the back half of this yarn about the exciting Halls Peak and Mavis Lake exploration projects.