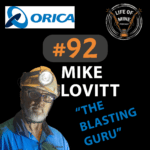 Mike Lovitt is a Global Underground Technical Specialist for Orica. He is widely known as "The Global Mass Blasting Specialist".
In this Blasting marathon, we talked:
– Mike's early career as a Engineer and Manager
– Old School Mass Blasting
– Science behind pulling a cut – Emulsion vs ANFO
– Mike's role in the Beaconsfield rescue
– Low voidage blasting
– Mike's funky designs for blasting Shale Oil development in Estonia
– Upcoming Blasting automation
Plus much more.