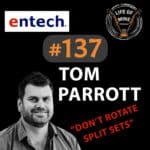 Tom Parrott is the Principal Geotechnical Engineer at Entech.
In this episode, we give a great overview of Ground Support for Underground Mining. Topics discussed include:
– How different bolts work (Split Sets, Resin bolts, MDX's, Swellex, Self Drilling Split Sets etc)
– Which bolts are good in which ground
– Using the correct bit size for different bolts and lengths
– Does an MDX bolt perform as well as a Resin bolt?
– Does bolting achieve anything in really soft/broken ground?
and plenty more
Grab Tom Parrott on Linkedin at https://www.linkedin.com/in/toparrott/
Check out everything that Entech have to offer at http://entechmining.com.au/ for all of your Mining Engineering, Resource Geology, Ventilation and Geotechnical needs.