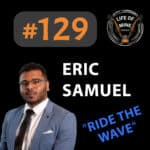 Eric Samuel is a Mining Engineer that has recently made a pivot into the Finance Industry.
He founded the Facebook chat group "Ride The Wave", which is a collection of like minded share traders that are looking to profit off Resource stocks.
We had a great yarn about investing in the Mining Industry, what high level traders are looking for….and plenty plenty more. If you're looking to invest in the Stockmarket and buy some Mining shares, this is right up your alley.
Make sure you connect with Eric on Linkedin at https://www.linkedin.com/in/eric-samuel-01/