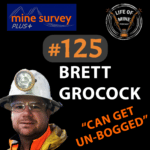 This episode is bought to you by Mine Survey Plus, check them out at www.minesurveyplus.com…..BEST IN THE GAME
In the first episode of 2022 we've got the Mine Survey Plus Founder and MD, Brett Grocock. This is the 2nd MSP legend to come onto the show, head back and listen to episode 115 with the MSP Ops Manager Gemma Murphy, no reason you can't get more Mine Survey Plus in your life.
In MSP Round 2 with the main man Brett Grocock, we go back to first principals, not just in Surveying, but about how to get your Survey ute un-bogged in various locations all around the world, notably Pakistan. Also, how dropping the names Shane Warne and Brett Lee managed to avoid Brett getting abducted by smugglers and having his kidneys sold in Europe. Then there's obviously a good chunk about what makes Brett and the team at Mine Survey Plus an absolutely sensational mob to work for. You'll hear all about his career, business, unreal expat stories and shitloads more. Be sure to grab Brett and Mine Survey Plus on Linkedin (links below). Full video of this episode is also available on Youtube, where you'll see the actually un-bogging maneuvers performed by Brett in Pakistan.
Brett's Linkedin page – https://www.linkedin.com/in/brettgrocock
MSP Linkedin page – https://www.linkedin.com/company/mine-survey-plus/