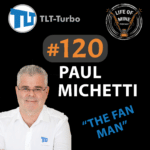 Welcome to our first TLT-Turbo episode, a global Ventilation Fan supplier that is now breathing air into Life Of Mine. In our first yarn, we chat to Paul Michetti, TLT-Turbo Australia's front man for Western Australia. 
Paul has 40 years experience in the ventilation industry and has been selling Vent Fans to the Mining industry for 25 of those years. We talk about Paul's career and plenty about Underground Ventilation and Fans theory.
If you would like to get in contact with Paul and TLT-Turbo Australia, head to https://www.tlt-turbo.com/en/region-finder/australia/ and follow the contact prompts.