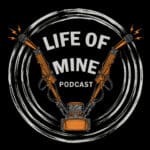 Scott Williamson is the Managing Director at Blackstone Minerals (ASX:BSX).
Blackstone's major asset is the Ta KHOA Nickel-Copper project in Vietnam. Check them out at https://www.blackstoneminerals.com.au/
Scott talked about the role Blackstone will play in both Mining and Refining Nickel concentrate to produce battery grade Nickel: Cobalt: Manganese (NCM) 811 Precursor for the Lithium-ion battery industry. 
We also delved in to the life of a Managing Director for a Public Mining company. Lots of hours, lots of flying (pre-covid) and plenty of wheeling and dealing all around the globe.