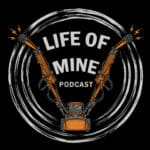 Become a Life Of Mine Patron and hear all the "rough episodes" at https://patron.podbean.com/lifeofminepodcast
Steve "Squizzy" Taylor is a Leinster legend. He has been on the Jumbo for 25 years and has proudly made the shit ground at Leinster his own. We talk about his early career of Rugby League in Wollongong and how this put him in great stead to be a great Underground Miner. Squizzy takes a lot from his younger days of Rugby League and has applied it towards being a good cross shift and a team player.
There is plenty to learn in this episode about keeping yourself in a good head space and having a positive attitude towards your Mining career.