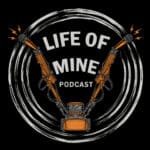 Luke Gleeson is the Head of Corporate Development for the new and exciting Gold Miner on the block, Bellevue Gold Limited (ASX:BGL).
 
Gleeso has given everything a crack in life so far. Grade cricket, Kickboxing, Stock Broking, Financial Analyst….Gleeso has done it all. 
 
He then spent a solid 5 year stint with Northern Star Resources, working as Bill Beament's right hand man for Investor Relations and Business Development. During his NST stint, Gleeso played a key role in both the Pogo and Super Pit acquisitions. 
 
In his current role with Bellevue Gold, Gleeson is embarking on taking BGL to the same heights he saw with Northern Star. 
 
This is a cracking yarn with a cracking bloke, you'll all love this one no matter where you work in Mining. If I was to come back reincarnated for a second life, I would be Gleeso.