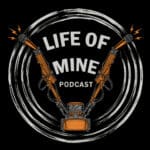 Well we're mixing it up, David Tucker has subbed in as the Life Of Mine host to interview Matt Michael (me).
We thought it might be time to give some history on the Life Of Mine host from birth to today. No point giving too much away, but this episode gives a great insight into why I am so passionate about topics such as Mental Health, Addiction and sensible Money Management.
I hope you all enjoy this, it was a great experience to reflect on the Matt Michael journey (its been a bit out there).