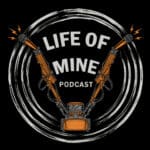 Well this was a very emotional and powerful interview. Robina Haines lost her husband Nigel suddenly and tragically in 2015. Nigel passed away whilst on site working at the Yandi Iron Ore project. He suffered a cardiac arrest from a blood clot, leaving behind Robina and their 3 children Jaxon, Savannah and Orlando. Then 12 months later, Robina was diagnosed with Breast Cancer.
After going through the fight of her life, Robina now dedicates her life to helping other families that have suffered a similar tragedy. She has written 3 books, that can be purchased at www.robinahaines.com.au. Her first book "Hello Grief Be My Friend" takes you through first-hand both the journey of Robina's grief and her fight with Breast Cancer. Her other 2 books, "My Shining Star" and "My Warrior Mum" are children's books that Robina wrote to help her son Orlando through the horrible time of losing his father. 
This is a very powerful interview and if you know anyone that is going or has gone through a similar tragedy, please forward this episode onto them. Robina's strength, resilience and positive attitude may just let these people know that one day, everything will be ok.